International exchange Lounge
The International Lounge is a place for students who are interested in international exchange and studying abroad, to spend time together and to join or organize cross-cultural activities. We provide a variety of opportunities for both Japanese and international students through activities below. There are many books, comics and board games you can enjoy freely.
・international exchange event
→Cross-cultural understanding,introduction of the culture in each other's countries.
・study abroad events
→presentation of study abroad experience, study Language etc.
・English Lounge
→English conversation lessons by native English speakers twice a week
・Pia support for internation students
→Conversation partner, Introduction of Japanese culture, Life support, etc.
Please feel free to drop by International exchange Lounge at your convenience:)
English Lounge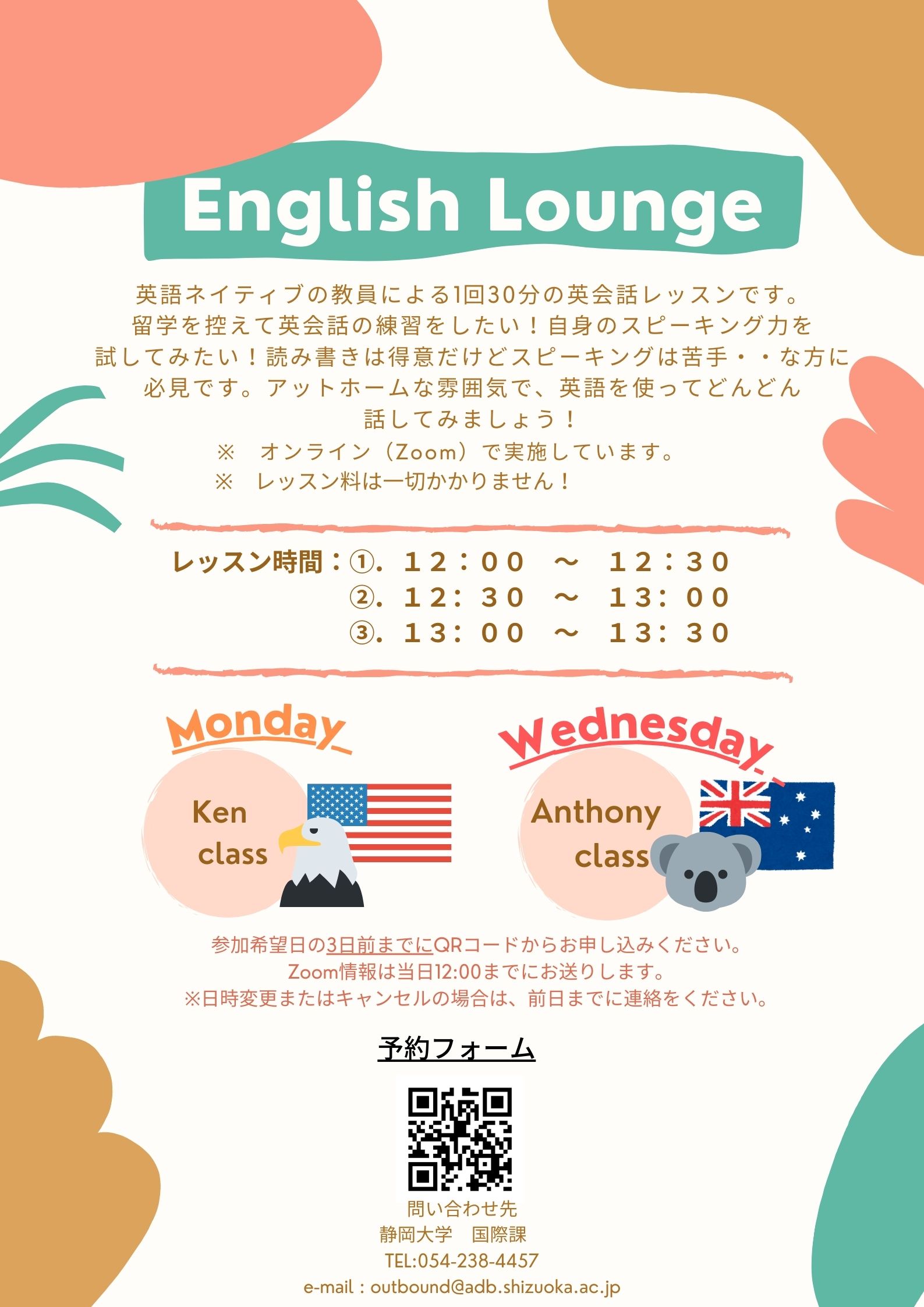 You can enjoy English conversation with English native instructors and students including international students in a very friendly and relaxing atmosphere. ※Now English Lounge is held online(Zoom).
・Mr.Ken
Monday: 12:00~12:30、12:30~13:00、13:00~13:30
Please refer each topic to the PDF.
・Mr.Anthony(only first semester)
Wednesday: 12:00~12:30、12:30~13:00、13:00~13:30
Please refer each topic to thePDF.
・Mr.Rob(only second semester)
Thursday: 12:00~12:30、12:30~13:00、13:00~13:30
Please refer each topic to thePDF.
Please make a resaversationApplication form for English Lounge during three days just before your preferred day.
we send the information of zoom to you on The morning of your resaversation day.
※Please contact (outbound@adb.shizuoka.ac.jp)by the day before your resarvation if you want to cancel
International exchange Lounge
we frequently update the inforamtion of event in International exchange Lounge. Please check it each page in each campus!
・place:General Education Building A, Room 405-2
・Place:7-109,Faculty of Engineering Building 7 international Exchange Lounge